GoSustain is the inaugural event on sustainability talks. It is a one-day multi-speaker event to inspire you into sustainable living. Together we can change the world.
Learn from our expert speakers about the booming topic of sustainability. Make your life much more efficient and fulfilling. Discover new opportunities and gaps in the market, new business ideas.

At this event, you will discover some new concepts on the way of living:
+ How are sustainability topics shaping our future 
+ The best ways to embrace sustainability
+ What is the importance of food sustainability?
+ How to grow our own organics in the back-yard?
+ Potential gaps in the market to create a business out of it?
+ How to be less of a burden to this environment?
+ How do sustainable economies work?
+ Benefits of switching to an electric car
Why should you attend? 
+ A full day of pure value
+ No sales pitch and we mean it
+ Learn something new. Do not miss the opportunity.
+ Network and have fun
Topics include: 
+ Sustainable - eco living space
+ Food sustainability
+ Energy Conservation
+ Organic clothing
+ Property industry and how it can become sustainable
+ How to solve the UK housing crisis in the next 2 years? 
+ Organic healthy lifestyle
Who is it for?
+ Anyone looking to make a difference in this world
+ Want to learn about eating healthy?
+ Anyone who cares about the environment
+ Entrepreneurs - there are lots of opportunities in the market
+ Students - future career opportunities
+ Anyone who is looking to become high performers
After party & networking:
+ From 19:00 onwards.
+ Very near to the venue
+ Feel free to join us for more networking opportunities and a bit of fun.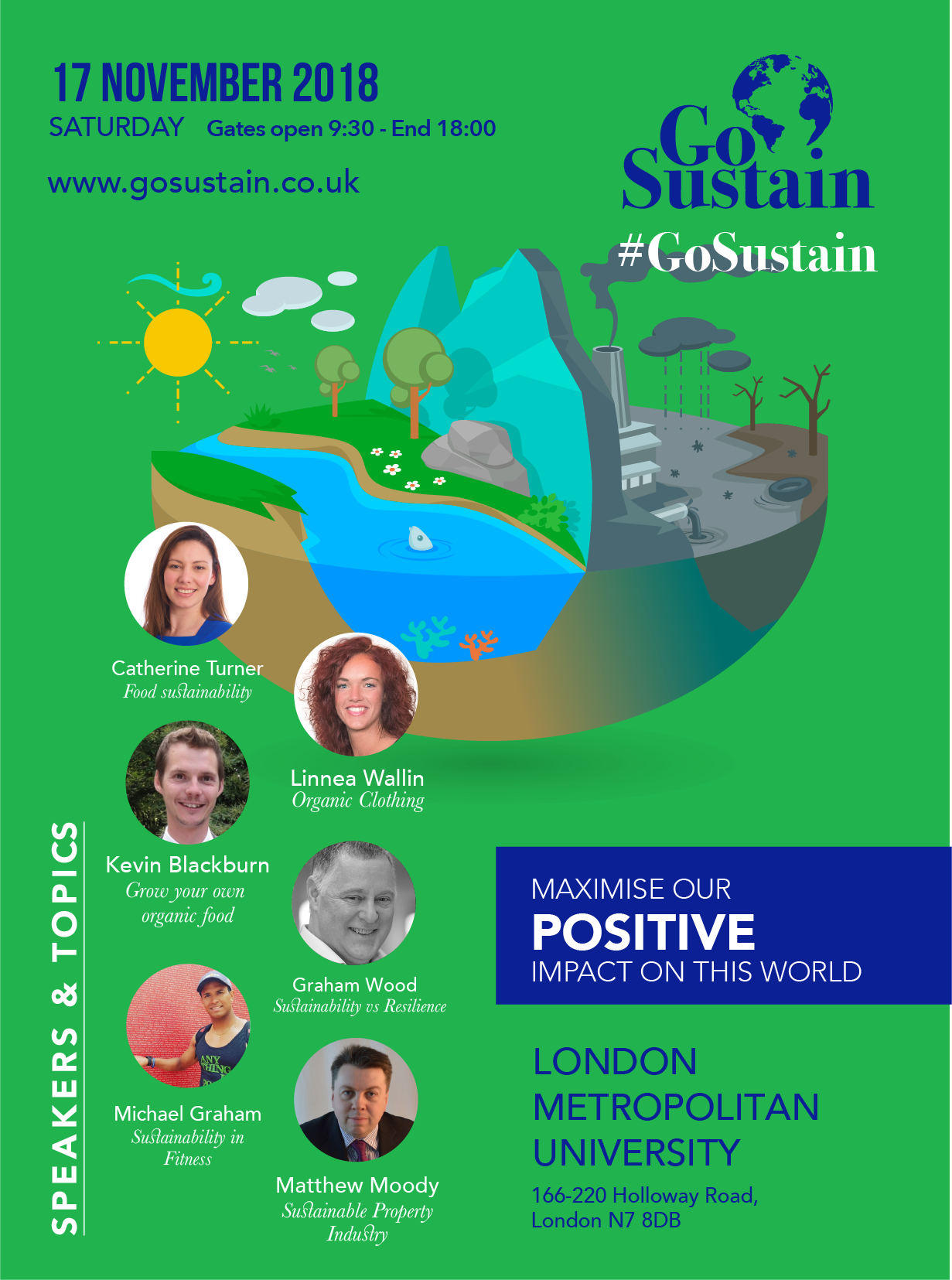 Speakers and topics: 
Catherine Turner - [Food sustainability] - 
Catherine is a public speaker, entrepreneur, podcast host, wife, mum and passionate about sustainability. Catherine's mission is to empower & inspire people to ensure we have a thriving planet for future generations. Through her talk, Catherine aims to share with you how our daily eating & shopping habits can have a dramatic impact on the planet around us, positively or negatively. But how through simple steps we can all ensure it has a positive & lasting effect on our planet for the good of everyone.
Linnea Wallin - [Organic Clothing] -
Linnea is the founder of 'LiWa Organic' a start-up promoting the use of clothes made from natural and organic fibers such as hemp, bamboo, and linen. We need more of these eco-friendly start-ups saving the world. 
Michael Graham - [Fitness and wellbeing] -
Michael is an Ironman, entrepreneur and is a keen enthusiast in fitness, mindset development, and sustainability. He has run several marathons and has also been in the Olympics. He will be sharing the 8 golden steps required to become the best version of who you want to be! 
Kevin Blackburn - [Grow your own organic food] -
Kevin is a sustainability enthusiast who grows his own organic food in the backyard using a technique called Aquaponics - it is a system of growing organic food and fish in a closed loop ecosystem in which fish produce the nutrients for the plants and plants, in turn, purify the water for fish. The system is highly efficient using only about 10% of the water necessary. Aquaponics is the most sustainable, water and energy efficient farming method known to man having the least possible footprint. Amazing new business opportunities around these new concepts. 
Matthew Moody - [Sustainability in property] -
Matthew is a property entrepreneur, writer, public speaker who has spoken internationally to 1000+ audiences. Matthew has a keen interest in sustainable living spaces and has been making a significant difference in the property industry. He will be talking about how we can efficiently use rooftop spaces and lightweight plastics to make affordable living spaces that are environmentally friendly. Solve the housing problem in this country and also promoting sustainable concepts.
Graham Wood - [Sustainability vs Resilience ]
How to make a smooth transition into a more resilient lifestyle and it's importance. The aim is to live in a regenerative environment (MORE than just sustaining, going further and THRIVING) people, planet, and profit must be balanced
Paul Watts - [Electric cars - no-brainer]
Paul is going to be talking about why you need to think about switching to electric cars and it's immense benefits not just to the environment, but to yourself and to your pocket. It's come to a point where it has become inevitable to accelerate the use of green fuel.
---------------------------------------
Public Transport: Nearest underground station: Holloway Road (Piccadilly line)
Parking:
spaces around Holloway road: 
https://www.justpark.com/uk/parking/holloway-road/