200 Hour Hatha and Ashtanga Yoga Teacher Training Course at Arogya Yoga School, Rishikesh. Certified by Yoga Alliance USA. If you are looking to bring a change into your life by learning yoga for self-rejuvenation or transfer the benefits to others, by getting a professional certificate and expertise, then Arogya Yoga School is the perfect fit for you.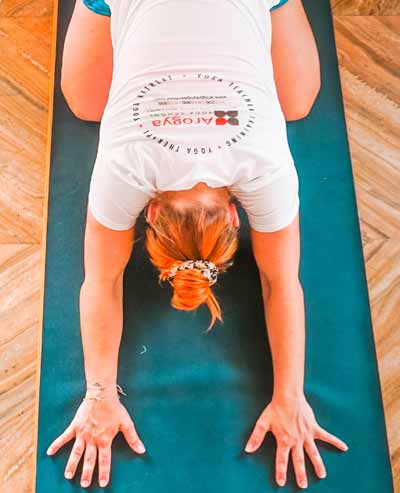 This Yoga Teacher Training program in Rishikesh India will be the foundational stone in your journey to advance your Yoga practice and to feel acquainted with different layers of Yoga & Science. You will build up self-confidence in such a way, that it will help you to find your own unique expression as an evolution of an inspiring yoga teacher.
Typically, a yoga teacher training program will cover topics such as yoga philosophy, anatomy, teaching methodology, and practical skills, such as how to lead a class and create a safe and welcoming environment for students. Some programs may also include business and marketing components to help graduates establish their yoga teaching careers.
If you are interested in becoming a yoga teacher, it is essential to research and compare different programs to find one that meets your needs and goals. Look for a program accredited or recognized by a reputable organization and taught by experienced and qualified instructors. It is also a good idea to speak with graduates of the program to get a sense of their experience and to ask any questions you may have.
200 hour yoga teacher training
daily schedule
A daily schedule for a yoga teacher training program can vary depending on the specific training program and the goals of the training. However, here is an example of a typical daily schedule for a yoga teacher training program:
6:00-7:00 AM: Morning meditation and pranayama (breathing exercises)
7:00-8:00 AM: Asana practice (physical postures)
8:00-9:00 AM: Breakfast
9:00 AM-10:00 PM: Yoga Anatomy
10:00 AM-11:00 PM: Yoga Philosphy
12:00-1:00 PM: Lunch
3:00-4:00 PM: Adjustments and hands-on assists workshop
4:00-6:00 PM: Asana practice
7:00-8:00 PM: Dinner
8:00-9:00 PM: Evening meditation or yoga philosophy study group
Trip Advisor Arogya Yoga School : Arogya Yoga School Tripadvisor
Facebook : https://www.facebook.com/arogyayogaschool/
Twitter : https://twitter.com/Arogyayogschool
linkedin: https://www.linkedin.com/in/arogyayoga-school-6a7939136
Instagram: https://www.instagram.com/arogyayogaschool
Web Site : https://www.arogyayogaschool.com/200-hour-yoga-teacher-training-course-in-india.php
https://www.arogyayogaschool.com/100-hour-yoga-teacher-training-course-in-india.php
https://www.arogyayogaschool.com/300-hour-yoga-teacher-training-course-in-india.php
https://www.arogyayogaschool.com/500-hour-yoga-teacher-training-course-in-india.php
https://www.arogyayogaschool.com/200-hour-yoga-therapy-course-in-rishikesh-india.php
https://www.arogyayogaschool.com/meditation-teacher-training-in-rishikesh.php
https://www.arogyayogaschool.com/yoga-retreats-in-rishikesh-india.php